This post is part of the MACRA Monday series of blog posts where we dive into the details of the MACRA Quality Payment Program.
Last week we posted about the APM Expansion in MACRA and the new PTAC Committee. Today we'll dive into the timelines for APMs. They can get pretty confusing, so hopefully after you read this post you'll have a better idea on how the APM timelines work.
Before we dive into the timelines, I also wanted to make a quick note of the benefits related to participating in an APM. The APM benefits really didn't change in the MACRA final rule so our previous post on Advanced APM incentives is still accurate as well.
As we noted before, participating as an advanced APM provides incentives on top of whatever rewards are part of your original APM agreement. Under MACRA, you just get an extra 5% bonus on top of your pre-MACRA rewards for being in an APM. Here are the 3 main benefits of participating as an advanced APM under MACRA: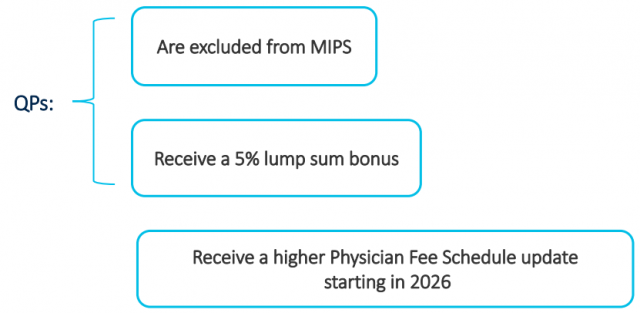 As far as reporting as an Advanced APM, CMS will take three "snapshots" on March 31, June 30, and August 31 in order to determine which eligible providers are eligible as an Advanced APM and meet the thresholds to become a Qualified APM participant.
Here's the official timeline details from CMS:
At point B, the snapshots are taken to determine eligibility and at point D in the graph above, eligible providers will be notified of their APM eligibility. Yes, this is a very compressed timeline, so it behooves you to get started early. Remember that if you don't qualify as an Advanced APM, then you still have to participate in MIPS.
The timeline for paying the 5% reward for being part of a qualified Advanced APM is still 2019 for reporting year 2017. 2018 reporting year will determine payouts for 2020 and so forth. That's no change from the proposed MACRA rule.
Be sure to check out all of our MACRA Monday blog posts where we dive into the details of the MACRA Quality Payment Program.
Get Fresh Healthcare & IT Stories Delivered Daily
Be in good company. Join thousands of healthcare & HealthIT peers who subscribe to Healthcare IT Today.