We'd like to welcome a new guest blogger to our ranks. If you're on social media, you probably know Colin Hung (@Colin_Hung), Co-Host of #hcldr. Colin is also head of Marketing for @PatientPrompt, a product offered by Stericycle Communication Solutions. We look forward to many posts from Colin in the future.
Recently both Nick van Terheyden (@drnic1) and Mandi Bishop (@MandiBPro) shared a link to an interesting article via Facebook. "Dropout Docs: Bay Area Doctors Quit Medicine to Work for Digital Health Startups".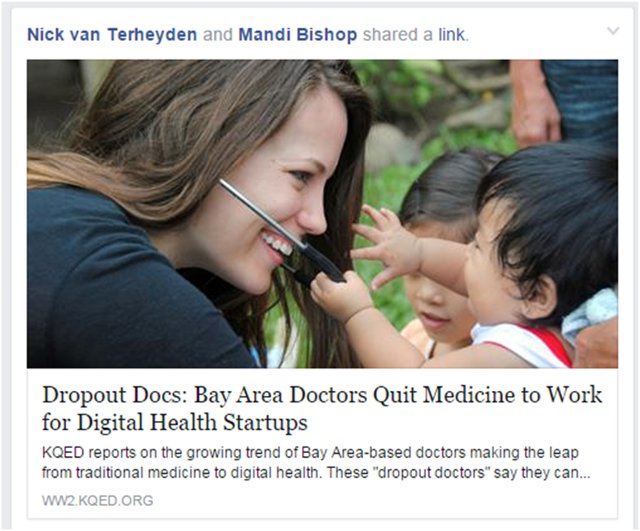 The article highlights a new phenomenon happening In the Bay area – would-be doctors are dropping out of prestigious medical schools to pursue careers in digital health. Even those that complete their schooling are opting to join digital health start-ups/incubators (like Rock Health located in San Francisco, very close to USCF Medical Center) rather than apply for residency.
Being a doctor or a surgeon was once the pinnacle of achievement in American society, but with changes to reimbursements and general healthcare frustration, many are not seeing the practice of medicine as the rosy utopia it used to be (or was it ever?). Now even physicians are succumbing to the siren call of #HealthIT where there is a chance to "do good" and make a difference on a large scale.
I believe this trend could be a good thing for #HealthIT. Having more peers who are enthusiastic and passionate about improving healthcare can lead to more positive innovations. Consider the following quote from a doctor who joined a health care company instead of practicing medicine (from the KQED article):
"I realized that the system isn't designed for doctors to make the real change you would like to for the patient."
Having more people who want to put the patient at the center of healthcare makes my #HealthIT heart race. You can't teach people to have this inner fire. It is something that is intrinsic to the individual…and we need more peers in #HealthIT with this flame.
There is just one line from the article that don't agree with:
"…dropout doctors are well-positioned for a career in digital health as they have an insider's view of the industry – and ideas about how to fix it."
I think it is a bit of a stretch to say that people who went through med-school have a true "insider's view". Having not worked in a practice or in a healthcare setting, they would not be familiar with the political, financial or workflow aspects of care on the front lines. I hope these doc-dropouts are humble enough to remain open-minded as they listen to real-life customers provide feedback on the technologies and solutions they are involved with. In fact, dropout docs would be well served by remembering one particular part of their medical training – truly listening to the patient – which in this case may be the entirety of healthcare.
Get Fresh Healthcare & IT Stories Delivered Daily
Be in good company. Join thousands of healthcare & HealthIT peers who subscribe to Healthcare IT Today.