The good people at Health 2.0 put together this great digital health map as a way to illustrate the broad landscape of technologies that encompass Health 2.0. I've embedded a small version of the map below (click on it to see the full map). What do you think of the map? Is there anything missing from it?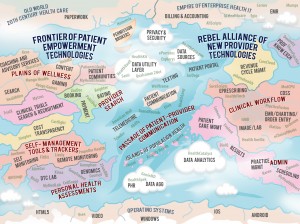 Health 2.0 also mentions that this map together with the four main categories: consumer facing, professional facing, patient-provider communication, and data, analytics, and exchange and 19 other subsegments will be how they structure the Health 2.0 conference in San Francisco.
I think one of the messages I get out of all of this is how complex the healthcare industry is right now. Certainly I've focused a lot of my posting on the EHR world, but there are a number of other areas not really related to EHR where technology can help. This map is an interesting way to have a more global perspective of healthcare IT. Thanks Health 2.0 for sharing it.
Get Fresh Healthcare & IT Stories Delivered Daily
Be in good company. Join thousands of healthcare & HealthIT peers who subscribe to Healthcare IT Today.