Today, HIMSS made an announcement of the HIMSS Health IT Value Suite. In its essence, HIMSS has collected a series of health IT use cases and good experiences that healthcare has experienced using health IT.
The HIMSS Health IT Value Suite has more than 500 cases demonstrating 56 different health IT benefits. That's a good number of use cases and experiences. One of the most compelling parts of this is the first hand quotes by doctors about the benefits they have seen using health IT. There's little more powerful to a doctor than another doctor's testimonial.
The challenge I have with the HIMSS Health IT Value Suite is that most doctors already look at HIMSS as the Healthcare IT cheerleaders as opposed to an unbiased source of health IT information. In fact, while doctors love to hear from their peers, that peer recommendation will likely be reduced if it's coming from a HIMSS product offering.
I think it's unfortunate that the HIMSS Health IT Value Suite didn't include the negative health IT use cases as well as the good ones. By only including the positive ones, they diminish the credibility of the suite. It's almost as if they act like health IT couldn't have negative impacts. Doctors know better and will discount any source that doesn't provide the full view of the impacts of health IT.
To make the HIMSS Health IT Value suite even better, they should share both the benefits and risks of health IT. A lot can be learned by seeing use cases where health IT didn't benefit a clinic. Those health IT failures can be used to teach how not to do health IT and what could be done differently to avoid those negative results.
I do find interesting the infographic that HIMSS put out about the STEPS (Satisfaction, Treatment/Clinical, Electronic Information/Data, Prevention/Patient Education, Savings) definitions they created to classify the benefits of health IT. You can see it by clicking the image below.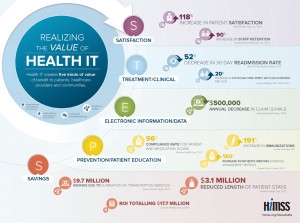 What do you think of the HIMSS Health IT Value Suite?
Get Fresh Healthcare & IT Stories Delivered Daily
Be in good company. Join thousands of healthcare & HealthIT peers who subscribe to Healthcare IT Today.