It's been interesting to see the evolution of conversation around healthcare IT at the provider-focused events I've attended over the last two years. Panels of hospital executives at first spoke about the benefits they were likely to see as a result of the HITECH Act and their facilities' subsequent plans for EMR implementation. One-year later, it was all about best practices for go lives. Today, conversation has reached the "now what?" phase.
This was definitely top of panelists' minds at the recent Georgia HIMSS Lunch & Learn, which offered attendees a hearty Italian meal and the chance to hear area CMIOs converse around the topic of "CMIO 2.0 – Leading Healthcare Transformation." While "transformation" tends to be a bit overused, I think it was an apt word based on the remarks from moderator Debbie Cancilla, Senior VP and CIO at Grady Health System; Julie Hollberg, MD, CMIO at Emory Healthcare; Daniel Wu, part-time CMIO at Grady; Roland Matthews, MD, physician champion at Grady; and Steve Luxenberg, MD, CMIO at Piedmont Healthcare.
I hate to play favorites, but Wu was my favorite panelist. Calling himself the "least tech savvy CMIO in the country," he was engaging and a good sport when it came to verbal sparring with his Grady colleague, Cancilla. No one in the audience was fooled by his self-deprecation, of course. Wu, who is also Assistant Medical Director at Grady's Emergency Care Center, and Assistant Professor of Emergency Medicine at Emory University's School of Medicine, knows a thing or two about healthcare IT, having put in an EMR for Grady's emergency department. He continues to serve as a physician champion for the hospital.
Several telling themes emerged from panelists' comments and audience questions, which I'll share in part 1 of this post. I'll cover challenges specific to each panelist and their facility next week in part 2.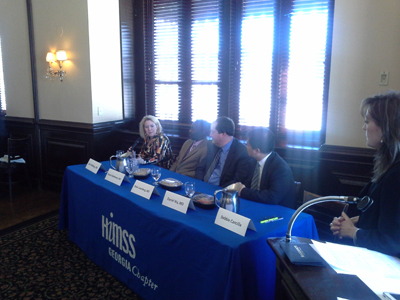 Left to right: Julie Hollberg, MD, CMIO, Emory Healthcare; Roland Matthews, MD, Physician Champion, Grady Health System; Steve Luxenberg, MD, CMIO, Piedmont Healthcare; Daniel Wu, part-time CMIO, Grady; and Debbie Cancilla, CIO, Grady. Photo courtesy of Georgia HIMSS
Shining a Light on CMIOs
This was the first all-CMIO panel I'd ever seen, which may be indicative of their general reluctance to be put in the spotlight, and perhaps the increasingly important role they play in HIT implementations of all kinds. (I also wonder if the title of CMIO is growing. If anyone has statistics on that, please share.) Cancilla noted it was time for CMIOs to get in the healthcare transformation conversation, and while these four seemed at no loss for stories to tell and pain points to share.
CMIOs Don't Play Favorites
When it comes to the clinical side of the house versus the IT side of the house, the panelists agreed that sometimes the two just don't understand each other. And that's where the CMIO steps in, acting as interpreter, smoother of ruffled feathers, and occasionally spokesperson for both departments to the higher ups. In describing his role, Luxenberg described himself as an objective third party, coming in to finesse sticky situations between clinical and IT staff. I got the impression from him that CMIOs often have more success in resolving disputes because they don't have allegiance to one particular department, but rather the hospital as a whole.
(Sidenote: Wu mentioned a hilarious cartoon by Atlanta-based anesthesiologist Michelle Au that highlights the delicate verbal dance CMIOs must do when talking with various medical specialties. Check out "The 12 Medical Specialty Stereotypes." It's worth noting Wu would be considered a "cowboy.")
Getting it Done for the Patient's Benefit
Because they represent the interests of the hospital, these CMIOs ultimately hold themselves accountable to the patient, and benefiting the patient is a big part of the message they have to convey to clinical and IT folks, especially during times of implementation. Luxenberg noted that he gets better EMR buy in from different departments when he highlights the benefits to patient care, rather than focusing on details specific to one department in particular.
Talking with different departments does mean, however, that CMIOs must step out of their comfort zones and really get familiar with the pressures of each area within their facility. Conveying this information is where a great relationship with the CIO comes in. For the CMIO's objectivity to truly be valuable, that assessment must be meaningfully discussed with the CIO. As Cancilla mentioned, CIOs need to step up and strengthen relationships with their CMIOs. All the panelists and Cancilla agreed the communication from the top down and bottom up is key to successful adoption of healthcare IT.
Get Fresh Healthcare & IT Stories Delivered Daily
Join thousands of your healthcare & HealthIT peers who subscribe to our daily newsletter.