We all know physicians are dreading the ICD-10 deadline. Who wouldn't be a bit blue around the gills if they had to switch from a system with 17,000 codes to one with about 141,000 codes? Now, a study by practice management vendor Nuesoft has given us some specifics as to just what worries them.
Nuesoft surveyed 480 physicians, administrators, office managers and billers in their survey, "Attitudes Toward the Transition to ICD-10 and ANSI-5010."  All told, they found that 96 percent of respondents were concerned about the transition, with 60 percent reporting that they were "highly" or "significantly" concerned.
As the Nuesoft chart below details, physicians are a bit freaked out over impact of ICD-10. As the chart below indicates, roughly one-third of the physicians questioned were "highly concerned" about the impact of the ICD-10 transition, and another 20-odd percent were "significantly concerned."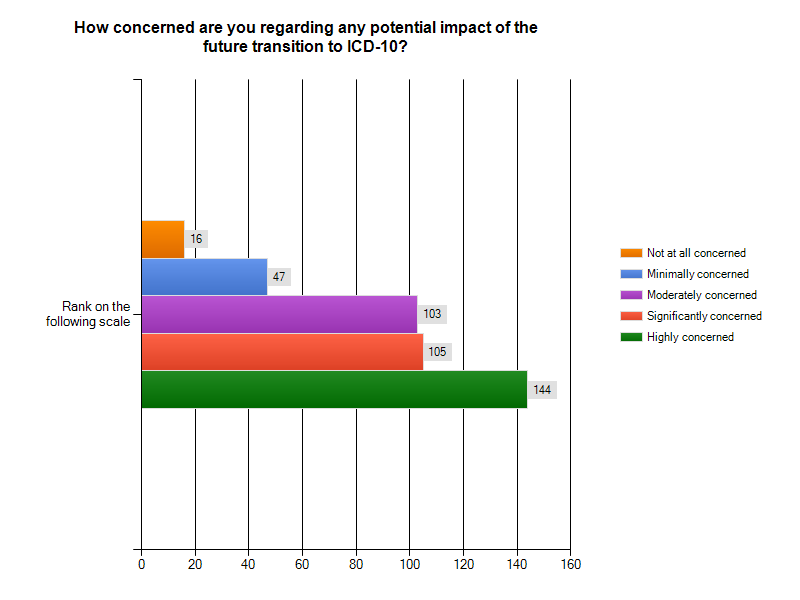 Thirty percent of physicians expect that the ICD-10 transition will affect their operations very negatively, and 45 percent "somewhat negatively."   The results were more or less the same for the other categories, which included finances, staff state of mind and personal state of mind (physician).
Thanks to Nuesoft for delving further into the headache that will dominate medical practice for years to come. Now, though, Nuesoft, how about a follow up? What I'd love to know, personally, is what differentiates those doctors who weren't worried from those that are.  That could prove to be an eye-opener. Maybe we have something to learn from them?
P.S.  Now, as a treat for those who made it to the bottom of this piece, here's Nuesoft's hip hop video on the subject:
Get Fresh Healthcare & IT Stories Delivered Daily
Be in good company. Join thousands of healthcare & HealthIT peers who subscribe to Healthcare IT Today.