As most of you know, I'm attending the Digital Health Summit at CES this year. As happens at most conferences, it's hard to blog about the happenings at the conference while attending the conference. Particularly with all the CES traffic issues (it's a literal zoo) and the packed CES Press Room. Although, I must admit that I haven't found too many things all that impressive. More on that later.
For today, I thought I'd give you a little picture view of what I call the Garden of Eden booth that United Health Group has at CES (click twice to see full size image):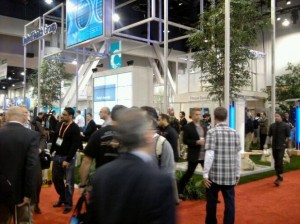 They seriously have grass on the ground and a wood path through their booth. Plus, they have some of the only benches at CES (many really enjoyed those including myself). They're also doing the pedometer promotion they did last year at CES and that they did at mHealth Summit, but this time you record your findings through the OptumizeMe app. I better win the iPad for all the walking I'm doing at CES. At least this time we're not up against the exercise demo lady in the booth across from United Health Group. That was totally unfair (No, I'm not bitter).
Also, I'm surprised how few people know about SOPA. So I thought I'd do my small part to get the word out to more people. SOPA is an abomination that they're trying to push through Congress. Here's the tweet I sent out recently about it:
Join me & change your profile picture to protest SOPA: BlackoutSOPA.org #BlackoutSOPA #vegastech #HITsm

— John Lynn (@techguy) January 12, 2012
As you can see I've put the STOP SOPA badge on my Twitter icon and will be doing it on some other places, likely including the blog logo above. I'm good with legislation that actually works to stop copyright infringement, but SOPA does nothing to stop it and does a lot to really screw up the internet as we know it today. I hope others will join me in helping to stop SOPA. This weekend I'll see if I can do a full post on why SOPA is bad if people are interested.
Get Fresh Healthcare & IT Stories Delivered Daily
Join thousands of your healthcare & HealthIT peers who subscribe to our daily newsletter.