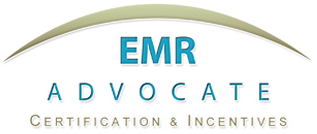 I've had a number of EMR companies ask me where they can get help to become a certified EHR. There's certainly plenty of resources online, but I find that most EMR companies want some real hands on experience and help to be able to navigate the EHR certification process. Whenever I'm asked this question, I always tell those people to go and talk with Jim Tate.
I still remember when I first met Jim Tate at HIMSS last year. I was hanging around the HIMSS exhibit floor because I was early to a meeting with a vendor. I'm sure I was in a partially lost state since I was trying to figure out what to do with the few minutes I had available before my meeting when I heard someone say my name.
I looked up from my lost state to see who was saying my name and saw an all too familiar face for which I couldn't place. The person then said, "You're techguy right?" (I'm @techguy on Twitter, and @ehrandhit as well). Then, everything clicked and I said, "You're Jim Tate right?" See the funny thing was that Jim and I had never met in person, but obviously both of us had seen each others healthcare IT tweets many times before (I think he enjoyed reading my rips on CCHIT pre-HITECH). It's always interesting (and usually fun) to meet someone in person that you feel like you already know online.
Personal stories aside, I've still gotten to know Jim Tate more online than I did in person. I hope that will change at HIMSS this year. Even if it's just running across Jim on the HIMSS exhibit floor or one of the various parties. Jim has an incredible amount of knowledge and experience in EMR certification. I'm not sure what it says about me that I find the idea of sitting around with Jim listening to old EMR certification "war stories" to be really interesting.
Of course, what prompted my storytelling about Jim Tate? A tweet Jim recently sent that said he'd worked with 90+ HIT vendors. He has a great EMR certification page on his website which has over 75 Ambulatory and Inpatient EMR vendors that he's worked with. That's A LOT of EMR companies. You can see the image of EMR companies he's helped at the bottom of this post.
One ONC-ATCB recently told me that many of the EHR companies that come to them are incredibly well informed, others are just missing some of the details and others are just completely lost. I'm quite sure Jim Tate's EMR companies fall into the first category.
Now Jim Tate is starting to share his expertise even more broadly as he partners with HITECH Answer and their Virtual Extension Center. Seems like meaningful use consulting will be Jim Tate and EMR Advocate's next step and probably a very good one. Or as Jim said it:
http://twitter.com/#!/jimtate/status/35811259853189120
Jim also gets my funniest tweet of the year award too. In response to @motorcycle_guy's tweet about who should replace Dr. Blumenthal as ONC head? Jim replied:
http://twitter.com/#!/jimtate/status/33579570749771776
Get Fresh Healthcare & IT Stories Delivered Daily
Be in good company. Join thousands of healthcare & HealthIT peers who subscribe to Healthcare IT Today.