UPDATE: Google Health Beta is now LIVE!
Today I saw an article on TechCrunch that talked about how Google Blogscoped found a Google Health login page (UPDATE: The Google Health Beta Landing Page has been taken down) for the hopefully soon to be released Google Health. Of course, there isn't really anything all that special about the login page. It looks just like almost all the other Google login pages. However, the Google Health page did include the following information:
With Google Health, you can:
* Build online health profiles that belong to you
* Download medical records from doctors and pharmacies
* Get personalized health guidance and relevant news
* Find qualified doctors and connect to time-saving services
* Share selected information with family or caregivers
Too bad none of the other links work, but it does give some interesting information about what Google Health will be like. The part that is most concerning to me is downloading medical records from doctors and pharmacies. How are they going to do that? The answer is that they aren't really going to do it. There are going to be a handful of the thousands and thousands of doctors and pharmacies that will be able to work with Google Health.
I hope that Google Health does the right thing and integrates with something like CCR since it is already beginning to be established in many Electronic Medical Record software programs. That would be a huge boon to CCR, but it would also open up an entire set of doctors that could support upload to Google Health. This could definitely be a nice differentiator from Microsoft Health Vault which can't do this either (unless it's been added since I looked).
If Google Health decides to create their own standard for a clinic to be able to upload to Google Health they are crazy. Doctors have almost no motivation to support Google's standard for uploading medical records. I'm not sure many EMR companies will support it either. I can see a few of them do it as a PR move, but I'd be very surprised if many of them bit on this. Doctors don't buy EMR software because their patients can get their record out easier. It just doesn't make business sense for EMRs or doctors to really do any sort of uploading like this to Google Health.
Of course the good thing for this all is that having another big player like Google interested in helping the healthcare system with some Health 2.0 solutions is great by me.
You can see my previous coverage of Google Health and also the Google Health Co-op.
Update: Here's a screen shot of what Google Health could look like.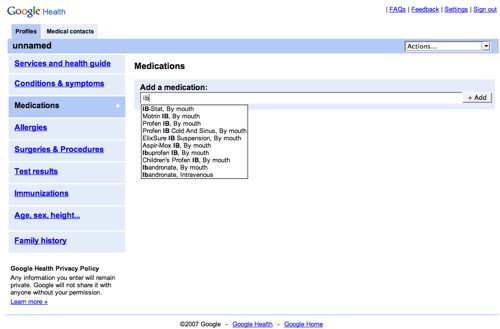 Update 2: What CEO of Google Eric Schmidt said about Google Health at HIMSS08.
Get Fresh Healthcare & IT Stories Delivered Daily
Join thousands of your healthcare & HealthIT peers who subscribe to our daily newsletter.