I did a presentation recently on an organization's resistance to change and the effect that has on software implementation. An EHR implementation is definitely no exception. In fact, it seems that many doctors are even more resistant to change than other industries, which is why we have the roughly 10% EHR and EMR adoption rate.
In my presentation I found two images that described the challenge of adopting an EHR and resisting change very well.
Does this remind you of discussing implementation of an EHR?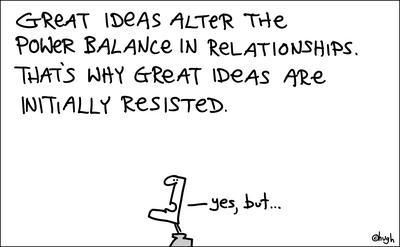 This one is a great one, but might take a second to truly understand.



Did you notice the wheels in the wagon? Seems a bit like a $60,000 EHR system sitting on the shelf to me.
Get Fresh Healthcare & IT Stories Delivered Daily
Join thousands of your healthcare & HealthIT peers who subscribe to our daily newsletter.